Isolation and Purification of CNF1 (Cytotoxic necrosis factor 1) produced from bacteria Escherichia coli and study its role against apoptosis in vitro
Abstract
Through the period April - December 2012, urine specimens were collected from186 patiants attending five hospitals. Seventy six isolates of uropathogenic E. coli were obtained from these samples. These isolates were identified as E. coli according to the cultural and morphological characteristics on MacConkey agar, eosin methylene blue agar, biochemical test (vitek 2 system), and API 20 E system. The results showed that only four E. coli isolates (E4, E8, E23, E36) produced cytotoxic necrosis factor 1(CNF1), and E23 was the more efficient isolate in CNF1 production and have high activity on tissue culture. CNF1 produced from this isolate was purified by two steps; the first was by ion exchange chromatography using DEAESephadex, and the second step was gel filtration by Sephacryl S-100. Also study Polymerase Chain Reaction (PCR) for cnf1 gene and used primer cnf1. The size of amplified gene was 543pb. The cytotoxic effect of different concentrations of CNF1 on cancer lines (RD, AMN3, , Hela, PC3 and HePG2) at 72 hr were examined .The effect was manifested multinucleated and enlargement in cell line. The low IC50 was 104µg/ml against HePG2cancer cells after 72 hr. Also study multiparameter cytotoxic assay. The results revealed low concentration of cytochrome c, total nuclear intensity, cell membrane permeability in comparative positive control. The mitochondria concentration was high compared to the positive control on of cell lines in the concentration (100,25, 12.5,6.25).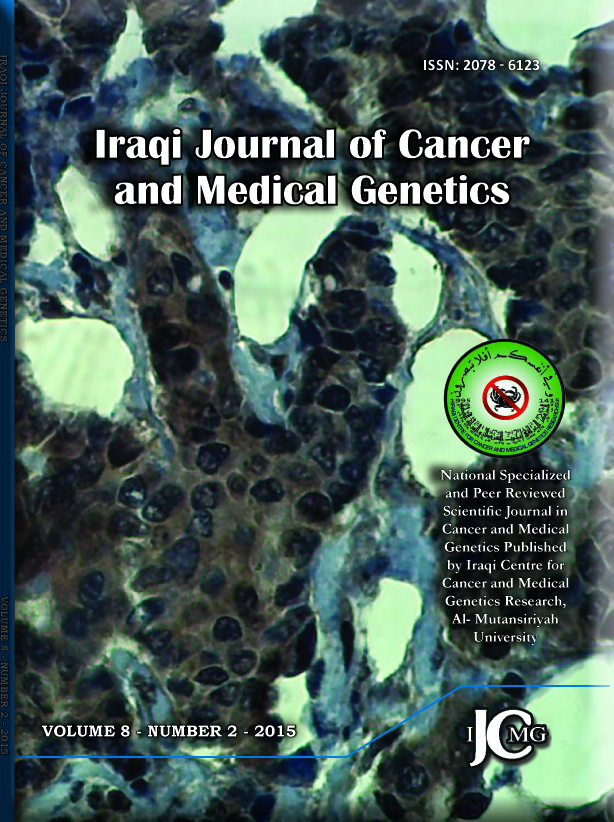 How to Cite
HASSAN, Muthanna H.. Isolation and Purification of CNF1 (Cytotoxic necrosis factor 1) produced from bacteria Escherichia coli and study its role against apoptosis in vitro.
Iraqi Journal of Cancer and Medical Genetics
, [S.l.], v. 8, n. 2, jan. 2018. ISSN 2078-6123. Available at: <
http://ijcmg.uomustansiriyah.edu.iq/index.php/ijcmg/article/view/159
>. Date accessed: 13 aug. 2020.