Corelation of Epstein Barr virus and CD3 T-Infiltrating lymphocyte with Oral Squamous cell carcinoma patients
Noor Al-Huda Ali A.H. Saeed
Abstract
Oral cancers are still poses one of the top ten risk globally in most countries worldwide, there are some factors involved the survival and spread of cancerous tumors, we will determined some of them in this study, such as viral agent and some immunological aspects, like T-lymphocytes. The present study was designed to discuss the evolution of the relation of Epstein Barr virus, CD3 T- lymphocytes with oral squamous cell carcinoma patients, by using Insitu hybridization technique and Immunohistochemical method correlation with different aspects like, age, gender, stage, grade, site and smoking patients. Eighty biopsies were collected from oral squamous cell carcinoma patients during the period from july 2013 until September 2015. By using (ISH), Epstein barr virus was detected in 33.7%(27 out of 80), CD3 T-lymphocytes detected immunohistochemically in 61.2%(49 out of 80)patients. According to all of oral squamous cell carcinoma patients , with mean age 59 years, ranged between (27-76)years, male to female ratio 3:1 with 60 men and 20 women . histological grade involved 63 well , 6 moderate and 11 poor differentiated carcinoma with 60 tobacco smoker and 20 non smoking patients . Most of cases 38 out of 80 were tounge SCC and other 29 were gingival and 13 palate, 59 out of 80 (73.7%) falling in stage I and II, the rest 21 cases were falling in II and IV. The results of this study shows highly significant correlation between each of Epstein barr virus as well as CD3 T-lymphocytes with all aspects above like aspects above like age, sex, tumor grade and stage , smoking and the site of the tumor at p ˂ 0.01.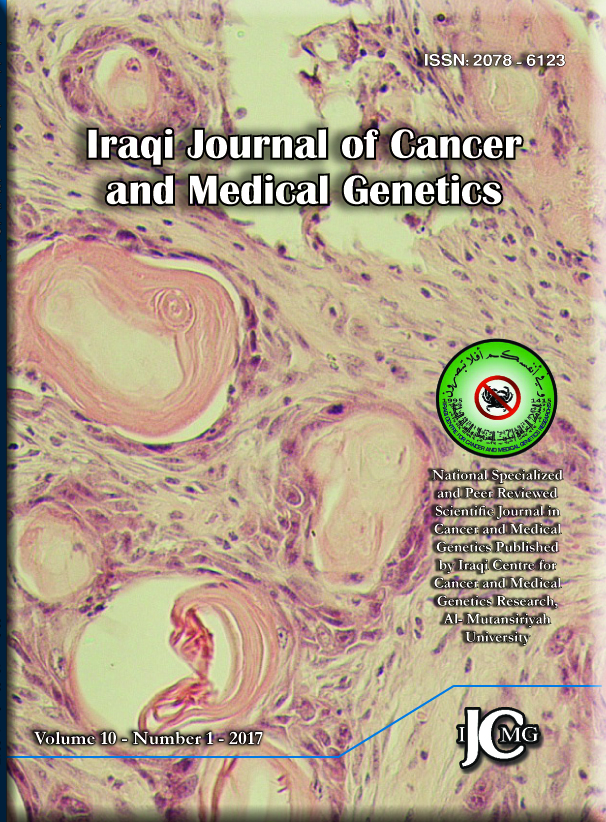 How to Cite
SAEED, Noor Al-Huda Ali A.H.. Corelation of Epstein Barr virus and CD3 T-Infiltrating lymphocyte with Oral Squamous cell carcinoma patients.
Iraqi Journal of Cancer and Medical Genetics
, [S.l.], v. 10, n. 1, jan. 2018. ISSN 2078-6123. Available at: <
http://ijcmg.uomustansiriyah.edu.iq/index.php/ijcmg/article/view/203
>. Date accessed: 09 aug. 2020.