Determination of Serum IL-8 Level in Women with Breast Cancer and Their Correlation With Disease Progression
Zahraa Abdul Muhsin Mohammed
Abstract
Background: Interleukin-8 (IL-8) is a pleiotropic cytokine with a range wide of physiologic and pathophysiology activities, in addition to its role as an immunomodulatory cytokine. IL-8 is thought to function as a growth and differentiation factor in human cancer, by modulating metastasis and angiogenesis. Objectives: Determination of serum level of IL-8 in women with breast cancer, bengin tumor and healthy women and to assess, whether it correlates with the disease progression. Subjects and Methods: In the current study, the IL-8 levels were measured in 41 women with breast cancer, 21 with bengin tumor and 20 healthy women. Serum concentrations of human IL-8 were determined by enzyme – linked immunosorbant assay (ELISA) Results: The levels of serum IL-8 were increased significantly in breast cancer patients compared with bengin tumor and healthy women (P<0.05). Higher serum concentrations of IL-8 were seen in stage III of the disease compared to values obtained from stage II patients (P>0.05). Conclusions: The present study indicates that elevated IL-8 serum concentrations are strongly associated with breast cancer and correlated with clinical stage of disease. These results suggest that serum IL-8 measurements may be useful in estimation of disease progression in women with breast cancer.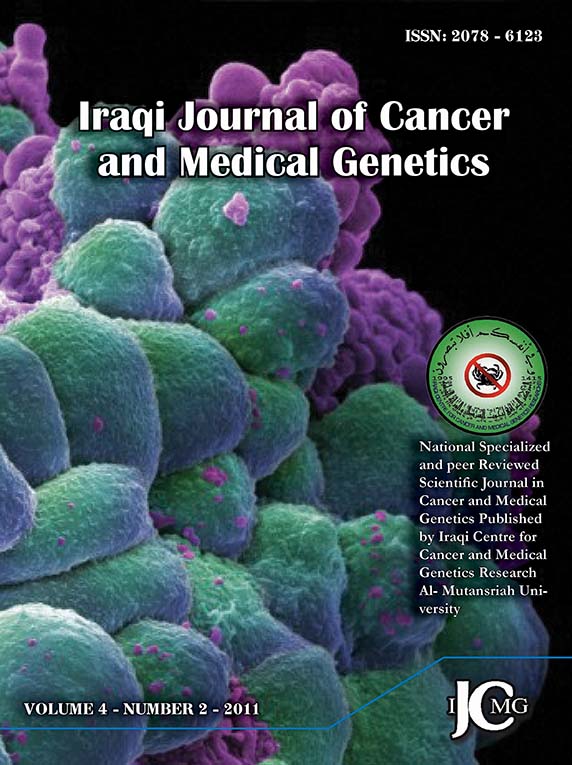 How to Cite
MOHAMMED, Zahraa Abdul Muhsin. Determination of Serum IL-8 Level in Women with Breast Cancer and Their Correlation With Disease Progression.
Iraqi Journal of Cancer and Medical Genetics
, [S.l.], v. 4, n. 2, jan. 2018. ISSN 2078-6123. Available at: <
http://ijcmg.uomustansiriyah.edu.iq/index.php/ijcmg/article/view/66
>. Date accessed: 06 aug. 2020.