Study the Effect of Low Level Laser (LLL) on the Histological Changes of Lymph Node Tissue in Mice Inoculated with Mammary Gland Carcinoma
Abstract
This study was conducted on normal mice. The mice were divided into three groups of five mice each (A,B and C ) and two control groups of three mice each. The second control group and the three other groups (A,B and C) of mice were inoculated with mammary gland carcinoma. After (11) days of successful tumour growth, the tumours appeared in different parts of the animal bodies in accordance with the gross observations. All the animal groups (A,B and C) under study were irradiated with laser in different duration times (1-3) weeks consecutively. According to the histological sections of the lymph nodes of the animals of the groups (A,B and C) the results showed various histological changes in the lymphocytes such as increased size and multiplication of the nuclei, cytoplasm cleavage in group (B) animals in comparison with the histological changes which were more abundant in the lymphocytes of the lymph nodes of group (C) animals that irradiated with laser of duration time of three weeks, whereas the histological changes that occurred in the lymphocytes of the lymph nodes of both group (A) animals which irradiated with laser of duration time of one week and the second control group of animals which inoculated with mammary gland carcinoma (non-irradiated with laser) were multiplication of the nuclei in some lymphocytes of the lymph nodes. The aim of this study was to evaluate the effect of low level laser (LLL) on the histological changes by stimulating the lymph node action in order to inhabit cancer cells activity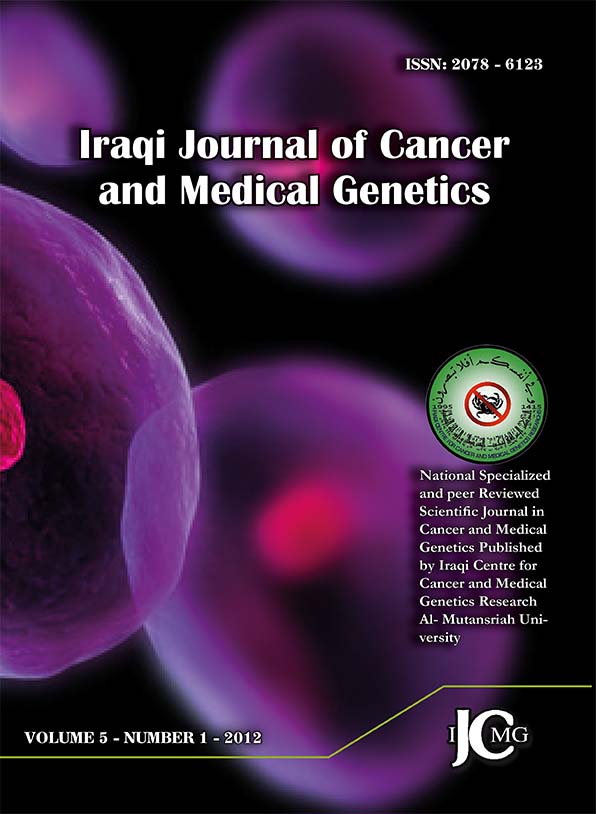 How to Cite
KHALEE, Aida Z.. Study the Effect of Low Level Laser (LLL) on the Histological Changes of Lymph Node Tissue in Mice Inoculated with Mammary Gland Carcinoma.
Iraqi Journal of Cancer and Medical Genetics
, [S.l.], v. 5, n. 1, jan. 2018. ISSN 2078-6123. Available at: <
http://ijcmg.uomustansiriyah.edu.iq/index.php/ijcmg/article/view/71
>. Date accessed: 06 aug. 2020.