Comparison of some salivary biomarkers between luminal and triple negative subtypes after surgical removal of invasive ductal carcinoma
Abstract
Luminal (L) and triple negative (TN) subtypes of breast cancer (BC) are recorded in Iraqi women which have different incidence, treatment, progression, and metastases. This study is aimed to compare some risk factors and salivary biomarkers between them. Only premenopausal Iraqi women with invasive ductal carcinoma (IDC) are involved in this study. Based on histopathologic and immunohistochemistry (IHC) report carried out by hospital itself, the age, Subtype and grade of tumor were recorded, while waist/hip ratio, secretory status, and salivary levels of Ca 15-3, total protein (TP), and PH were determined 2-3 weeks after surgery and before starting therapy. Results revealed that luminal is the predominant subtype of IDC and constitute about 80.5% and the rest (19.5%) is TN subtype, however HER-2 subtype didn't recorded. Also women with TN are presented at age 40.7 year which is significantly (P ˂ 0.05) lower than that in (L) subtype (47.1 year). All TN cases are non-secretor and presented at grade 3 and their saliva is more acidic and containing higher levels of Ca 15-3, and TP than those in (L) cases. Our results suggested that saliva can be used as an alternative diagnostic sample in differentiation between various subtypes of IDC, and secretory status of patients may be contribute in determining the subtype of BC.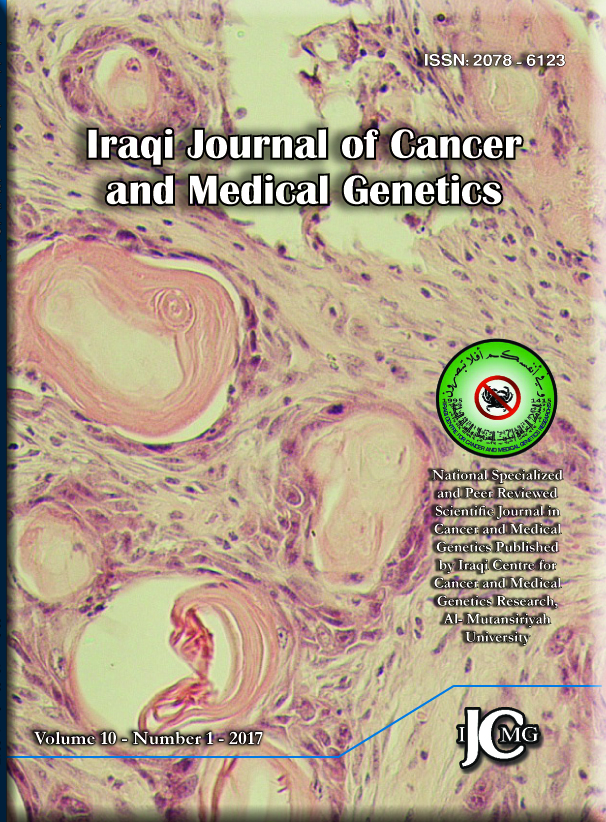 How to Cite
SALIH, Khalid Mahdi. Comparison of some salivary biomarkers between luminal and triple negative subtypes after surgical removal of invasive ductal carcinoma.
Iraqi Journal of Cancer and Medical Genetics
, [S.l.], v. 10, n. 1, jan. 2018. ISSN 2078-6123. Available at: <
http://ijcmg.uomustansiriyah.edu.iq/index.php/ijcmg/article/view/201
>. Date accessed: 13 aug. 2020.