Histopathological and Molecular Analysis of Thyroid Papillary and Medullary Carcinoma in a Samples of Iraqi Patients
Keywords:
thyroid hormones, thyroid cancer, DNA analysis of human, DNA mutation detection by PCR
Abstract
This study included, 1500 patients showing thyroid cancer (500 female and 1000 male), were selected to determine the histopathic disorder and DNA aberration in thyroid tissue compared with 200 healthy people of both genders in four years study (2006 – 2010). Histopathological examination of thyroid disorders showed the presence of papillary carcinoma in patients with goiter and most of benign tumors appeared in female patients and were less in male. Cancer study showed that cancer studied were mostly of papillary carcinoma, whereas medullary carcinoma was less frequent. DNA analysis using hexamere RAPD primers from patients with thyroid carcinoma and thyroid disorders compared with healthy persons showed different patterns analyzed as follow: Patients with hyper and hypo thyroidism showed no DNA aberration when compared with each other and with healthy persons, whereas different patterns of DNA electrophoresis were noticed with patients with cancer cases. wThis pattern showed that patients with medullary and papillary carcinoma showed bands in location significantly different from those patients with thyroditis and healthy subjects. Further analysis with specific primers showed significant change in bands at location amplified compared with healthy persons suggesting a sever change in DNA sequence in patients with carcinomas which may attributed to BRAF mutation.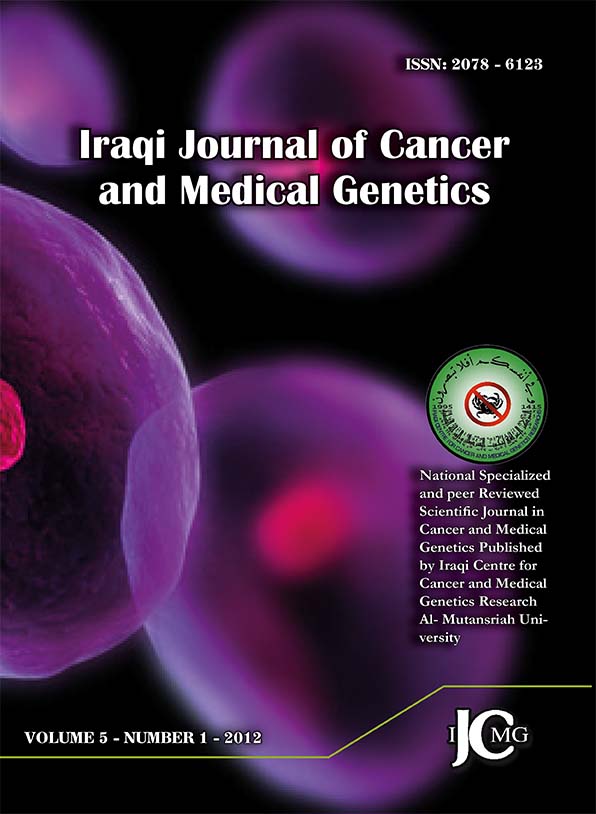 Downloads