Novel Synthetic 3-Amino-2-Methylquinazolin-4(3H)- one (L) Induce Apoptosis and Modulate Antioxidant Enzyme Activity in Some Cancer Cell Lines
Zaid A. Ali Al-Hilli A. Ali Al-Hilli
Abstract
A quinazoline ring possess interesting biological activities, we study the combined cytotoxic activity, induction of apoptosis and antioxidant enzyme modulation of new synthetic aquinazoline compound in several cancer cell lines. This compound is 3-amino-2-methylquinazolin-4(3H)-one (L), it was synthesized in the laboratories of Department of Applied Science - University of Technology – Iraq. Its showed potent cytotoxic and growth inhibition effect on all cancer cell lines tested. Cells death was due to the induction of apoptosis through modulation of superoxide dismutase (SOD), glutathione S transferase (GST) and glutathione (glutathione L-glutamyl-L-cysteinylglycine, GSH). These results indicate that this compound has desirable drug-like properties; it's of great significance to understand its full anti-proliferative mechanism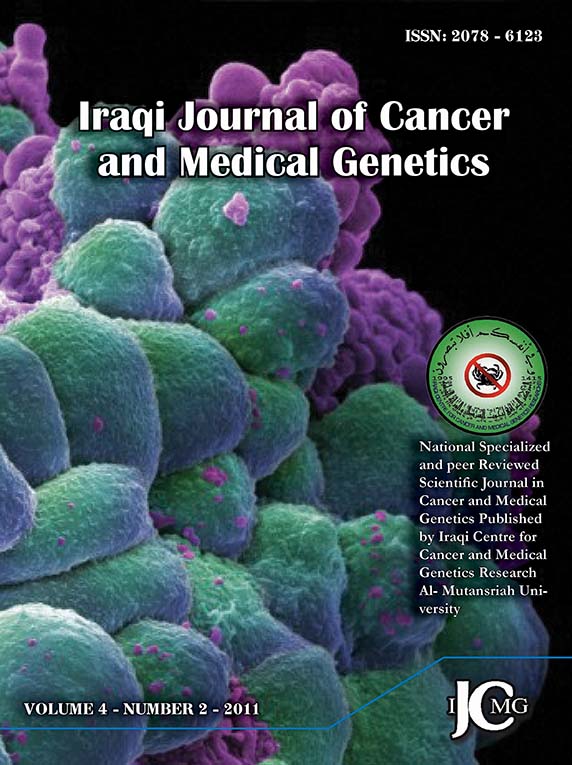 How to Cite
AL-HILLI, Zaid A. Ali Al-Hilli A. Ali. Novel Synthetic 3-Amino-2-Methylquinazolin-4(3H)- one (L) Induce Apoptosis and Modulate Antioxidant Enzyme Activity in Some Cancer Cell Lines.
Iraqi Journal of Cancer and Medical Genetics
, [S.l.], v. 4, n. 2, jan. 2018. ISSN 2078-6123. Available at: <
http://ijcmg.uomustansiriyah.edu.iq/index.php/ijcmg/article/view/61
>. Date accessed: 06 aug. 2020.