Newcastle Disease Virus Iraqi Oncolytic Strain Induce Apoptosis in Tumor Cells Through Endoplasmic Reticulum Pathway
Keywords:
Newcastle disease virus Iraqi strain, Apoptosis, caspase-12
Abstract
In tumor pathogenesis and metastasis, defects in apoptosis are essential. They allow tumor cells to overcome nutrient deprivation, absence of growth-stimulating signals and presence of growth-inhibitory signals. Newcastle disease virus Iraqi Strain is interesting oncolytic agent with promising anti-tumor properties. One of the major anti-tumor properties is apoptotic induction. This experiment aimed to investigate the ability of Iraqi strain of NDV to induce apoptosis in vitro and in vivo and to give preliminary look about the main pathway that induces apoptosis. Mitochondrial permeability transition apoptosis test was used for detecting apoptosis in vitro and mAb Rabbit anti-mouse caspase-12 was used for tumor sections for in vivo experiment. In vitro results revealed that NDV infection induce apoptosis significantly when compared to control cells. In vivo Immunohistochemical Detection of Caspase-12 in Mammary Adenocarcinoma revealed a significantly (p<0.05) marked increase in the mean percentage of cells expressing caspase-12 in NDV treated group compared with the untreated control group at day 7, 14 and at day 31. These results revealed that NDV had powerful effect on inducing apoptosis in AMN3 mammary adenocarcinoma in vitro. Moreover, caspase-12 expression was high in tumor sections which suggest that NDV induce endoplasmic reticulum apoptosis pathway. This study indicating the role of NDV Iraqi strain in inducing apoptosis through ER pathway in cancer cell which is interesting feature that may make NDV Iraqi strain is a good addition to antitumor arsenal.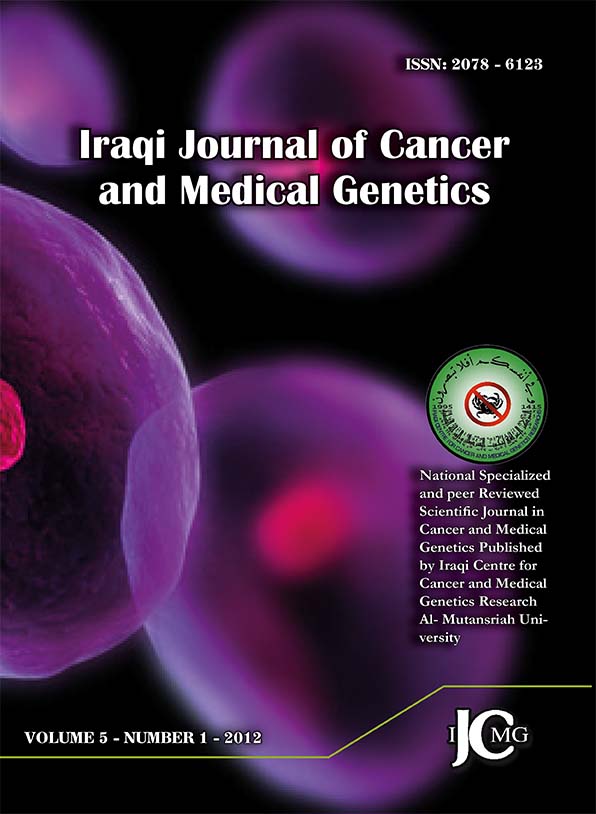 Downloads